NORA: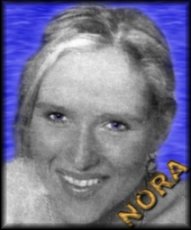 NORA BALLING:
The history of NORA ANDERS
was born on the 31 July, 1964 in rich parents' house in West Berlin. Later family has bought their own flat in Koblenz, in Karthause district. Nora was the third and the last child in Balling family, after her two sisters Dolores (16 years elder than Nora) and Marion (13 years elder than Nora). Nora-Isabel looked like her father - also blonde unlike her dark-haired sisters.
Elder sisters were almost grown-up, that's why Nora was brought up as a single child in the family. She was growing in atmosphere where everything was allowed and everything was forgiven, where she was protected from everything. In spite of this, Nora was very independent and wayward person. She was called "Mermaid" at school because she let her long hair down and she was very proud. Like inborn leader, Nora was distinguished by all: she wasn't afraid or teachers, she always expressed her own opinion. Even in clothes, she was the most eccentric and when she was 12, her parents presented golden watch "Rolex" to their lovely child.
Nora's father died when she was 13 and as result of this, her mother became an idol and an example for her. Sisters also joined to Nora's upbringing. Especially succeed in it Marion, which loved to give advises, how to do this and that better and she irritated Nora by this. In addition, Marion watched over and she was pestering Nora when Nora was driving her own car at high speed on steep roads. Then a friend had appeared in Nora's life - it was black Great Dane Sasha, and after this, animals became the biggest hobby of hers. To tell the truth, Nora also adored ice cream in different variations. She could eat it when she had overeaten already and even could catch a cold.
After graduating from school, Nora continued teaching in Cosmetics school of Countess von Hougvitz in Bonn. Passion to drawing, imagination and just talent made Nora the best pupil. A year later she got a profession of beautician and face-maker. At the same time Nora was working as a photo model for firms of fashionable adornments and accessories, where she advertised rings, chains and perfumes.
Once in spring, Nora met a young man from Koblenz, Stefan by name. The guy fell greatly in love with Nora. But how could he interest such girl? Therefore, Stefan decided to boast his knowledge to famous singer Thomas Anders. Thomas was famous at that time only in Koblenz, but he had certain success and was shown on television. Thomas is creative pseudonym of Bernd Weidung and his friends called him like that too. He was Stefan's school-friend. The acquaintance of Thomas and Nora became a great mistake for Stefan. He wouldn't better do it!

When Thomas and Nora saw each other, a "gleam" had flown between them. On the other hand, maybe, it was arrow of love? The first thing Nora had thought about was: " Small young man -what a charm, but he is very small!" It's no wonder, because Nora was half-head higher than Thomas ! But this fact didn't hinder to the beginning of the feeling. A few days later Nora met Thomas at supper to tell that Stefan couldn't make efforts any more… She had already decided for herself, that Thomas was the man of her dreams! In addition, all the rest would become and became a whole history! About her first kiss, Nora remembered like that: "Thomas was taking me home. I wanted to get out in the front of my door but I couldn't. We had laughed, I had blushed and then we kissed. Thomas called me once more at night and told that he loves me." Thomas was one year older than Nora, however she never called him like that. He was just Bernie for her - he was called in childhood like that and he signed his first autographs like that. They were such different people - she is Lion by horoscope - dogged, energetic person and he is Pisces - gentle, sentimental person, but they had so much in common.
When Nora was 19, in December 1983, her sisters informed her, that their mother was hardly ill, and to undergo treatment was very late, because, maybe, she couldn't live more than a month. It was a terrible shock for Nora. She had to make a completely revaluation of her life, got accustomed that her mother was slowly dying on her eyes, got used to live alone, because her adult sisters had already their families. This was the end of light-hearted life…
Nevertheless, Nora still had her darling Bernie, which helped and supported her in every way. 1984 began for Nora not very luckily: during one walk her black risenshnayzer Sasha was stolen. But black Greate Dane was presented to her in June, which she called Assakan. Nora adored all livestock, but two mother's favorite parrots made Nora and Bernd awfully nervous. These two birds were very noisy, their scream drowned sound of radio, TV-set, records, and Nora wished sometimes to buy a gun!
At this time, Thomas' career slowly and confidently was going up in the world. Thomas invited Nora even for scanning of one of the first his own clips "Heisskalter Engel".
Despite doctors' predictions, Nora's mother - very strong person with great thirst for life, had lived one more year. In October 1984, she was worse. Thomas gave little Yorkshire terrier Mickey by name to Nora on November 4. This dog somehow had to console Nora. This date Thomas remembered exactly, because next day Nora's mother died and Nora became an orphan. It was a strong shock for her: dread of uncertainty, solitude and vulnerability… Sisters lived separately for long time, Nora had stayed with Bernie, which became for her the whole world. Thomas loved Nora very much too. He liked her for spontaneity, efficiency, hopefulness of hers; he could completely trust her.
A few days since mother's death, Nora got into automobile accident. She was covered with wounds, fractured her skull, but didn't get to the hospital. Nora had curtained all the mirrors in the house and had wept all night through. Thomas woke her up in the morning. He asked, if she wanted to marry him…Some time later Thomas had moved to Nora on famous Zeisig-Strasse 14. This is the street, which subsequently will be the place of pilgrimage of millions fans of Nora's husband - Thomas Anders. This flat on the last floor left in inheritance for Nora from her parents. It was near 200 square meters, full of antiques, with baroque furniture. They didn't change furniture in the house, except bedroom. Nora had draped ceilings with blue silk, and bed was in the center and stupefy with its size: 2.80 meters wide and 2.40 meters long, with two rungs and few golden pillows gave relish to it.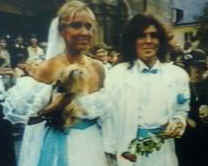 On the 28th of December, 1984 Nora-Isabel and Thomas signed at the registry office, and both took the surname of each other: Balling-Weidung. And for weeks later her husband Thomas Anders with his partner Dieter Bohlen, the member of duet "Modern Talking" with hit "You're My Heart, You're My Soul" became #1 almost in every country. He became a star. Later everything was going so quickly, that to the end of the next year they didn't have any free minute for wedding at church. They didn't have conjugal contract, because they had thought - it was for ever. Nora became the hair of riches running into millions after parents' death, Thomas also already became prosperous after the first fee from "Modern Talking", and any of them could use bill of another.
Half of the world started to pursue them; their life became a universal property. They traveled around Europe - foreigners, photos, autographs and endless interviews. And Nora always was near her husband, and also always they had their little doggy-child Mickey-Mouse, which was carried in bag by Thomas and Nora. Mickey's weight was only 900 g, even when Thomas was buying him, he was the smallest in the brood, and when he was brought home even big Assakan was scared at first.
Thomas had already appeared with golden chain during screening of the third clip "Cheri Cheri lady" and the name of his wife was sparkling on the chain.
Thomas' long hair, which was also Nora's idea, and this chain became Thomas Anders' visiting card and his scourge. The idea of chain was commonplace. Thomas and Nora with some friends were on holidays. Once in the afternoon, they laid near outdoor pool and owing to idleness were thinking of making any joke. A thought came to Nora' head: to make a belt with big letters on the buckle such as bizarre Udo Linderberg's belt (Udo Linderberg is cult singer in Germany).
The idea of T-shirt with Nora's name was suggested, but soon it was rejected aside, because this legend wouldn't be visible on TV. And close friend Guido said, that a chain would be better. This had seemed to all company so witty, that order on such thing was made immediately. They even didn't concede that later it would make nervous all nation! Thomas: "From marketing's point of view it was brilliant chess move. To imagine something better is impossible - to invent such silly idea near the pool, and later to irritate half a world by this!"
Despite furious rhythm of superstar's life, Nora and Thomas found time to marry. Grandiose wondrous wedding took place on June 27 in the largest Roman Catholic Church of Koblenz - Herz-Jesu-Kirche («the Heart of Christ»). The central entrance of the church was opened first time after 20 years (it is closed now too) especially for Thomas and Nora. Nora had bought her wedding dress in San Remo. It was chic low-necked dress with magnificent petticoats of silk and gauze with Florentine lace, which had been fastened on 60 snaps (like in film "Gone With The Wind"), veil with 5 meters train and turquoise belt with bow. And Thomas was dressed in white silk suit with short jacket, he had also turquoise handkerchief, turquoise girdle, turquoise clip on bow-tie and turquoise boots.
Thomas had ordered wedding rings from yellow-reddish gold according to his own sketch. "From Bernd, with love" was engraved on Nora's ring, «From Nora-Isabel, with love" was engraved on Thomas' ring, and both had the date of wedding on their rings - July 27, 1985. White and turquoise colors were the colors of the wedding, church also was decorated with white-turquoise compositions of flowers. When Thomas and Nora were going across portal, the first chords of "You're My Hear, You're My Soul" were playing on the organ. They went into short wedding journey at once after the wedding, and to long-expected vacation on Spanish island Grand Canary from there.
The thing that Nora always was with Thomas began to irritate everyone for some reason, everyone besides, of course, Thomas himself. He felt so splendidly, calmly and conveniently, because Nora "had taken the fire on herself" - she defended Thomas from importunate reporters, which was denied in the interview in the middle of the night because of quite clear causes, or for well paid scandal in press. On the other hand, Nora also was Thomas' private manager, she made him up before performance and arranged his long hair, and she looked after Thomas' clothes. They went to fashionable boutiques together, and as Thomas' size in clothes and in footwear fitted Nora, they could exchange their boots, pullovers, and chemises at buying. Their tastes coincided almost in everything.
Nevertheless, press had taken a dislike to Nora. In addition, Thomas' partner, Dieter Bohlen also disliked, that woman expressed her own opinion. The matter is, Dieter and Nora are very similar on nature. Both are resolute, independent and strong persons. Moreover, of course, neither Dieter nor Nora apt to make concessions. Owing to this, disagreements were often originated between them. Thomas is person with very pliable character, so he just kept quiet, when he disliked something. He was very pleasant, that he hadn't necessity to worry for something and to explain something to somebody - Nora did all this things. Nora was ascribed all conceivable and unthinkable scandals: how Nora had locked Thomas in a hotel room or how the appearance of "Modern Talking" was upset owing to her, and the like. People always have to find the guilty person; performer himself can't be him. Thomas: "If nothing came to the head of someone disappointed scribbler, Nora is accused in everything. Thomas defended his wife in all interviews and on the pages of magazines: "Nora isn't a wild devil, not a dragon, and also not damned wretch, otherwise I would never marry her!" When people are in loved, this often provoke other's envy…
In the meantime, "Modern Talking"'s popularity was growing - constant performances, surveys, shocks. Sometimes Thomas and Nora didn't care about: where are they, what are they doing… And short days of rest from one performance to another they spent at home, where their animals were waiting for them. Moreover, quantity of these animals little by little was growing higher.
Black Great Dane Assakan (75 kg) loudly barking jumped to Thomas and slapped with love on his both shoulders. In this way, he at a single bound threw Thomas back to the door. It was usual greeting, when Thomas and Nora came back home to Koblenz from tour.
Thomas just quietly sighed, when Nora again had fallen in love with new little animal. In order that Mickey wouldn't feel himself lonely in his bag, he got a game's friend Daisy. It was Yorkshire with silvery coloration. Then to the company Persian cat Nero was added. Some time later, in 1986 cat Sasha, Maltese lap-dog Cheri (which liked to bite expensive blue counterpane in bedroom) and afghan greyhound Princess had appeared. The housekeeper of Thomas and Nora, Christel Knipe always clutched her head, when animals were rush up and down around the flat in Koblenz. It wasn't a wonder that nibbled Thomas' moccasins "flied" in the bedroom, and Nora only had to whistle drastically with two fingers to distract this wild wool ball from wardrobes and pillows. To say the truth, the only thing Thomas was hardly objecting - is monkeys, which Nora considered to be nice. But Thomas thought, that Nora likes animals.
In 1986, Nora took patronage at one Animals' House in native Koblenz. There lived 100 dogs and 80 cats. This House had to be nationalized on state pattern, i.e.: animals, which wouldn't find a owner to themselves in three months, had to be put to sleep. At first visit of this Animals' House, Nora at once left all her money, which were intended for domestic expenses, there. Nora decided to fight: "I could go onto barricades for the sake of this". She opened account for donations, which was published in magazines. Nora asked her friends, her relatives, businessmen about donation, she walked everywhere with special purse. Thomas also used his popularity: at one disco, he applied with request to help animals and he gathered 180 DM right there. This enterprise wasn't useless, and animals were rescued by general efforts.
After parents' death, Nora became interested in life after death, she was sincerely believing, that her mother's soul were always near and helped Nora. In Nora's collection numbered vast quantity of books of spiritism.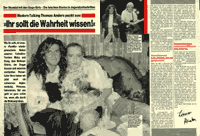 In scarce moments of rest Thomas was reading books, Nora was watching films, and evenings they spent together: Thomas spent in kitchen two hours (mainly he cooked in family), Nora helped him.
Both liked to travel very much, especially there, where is warmth, the sun and the sea. Thomas and Nora became frequent guests on Gran Kanaria Island in "Palm Beach" hotel, where all personnel had known them already. The hobby of both was the sun, or to say exactly - sunburnt color of the skin for maintain of body's culture. Both spent much time in solarium, and in the vacation they spent time on the beach. Although just to lie on the beach Nora haven't enough patience and she consider this as mortally boring occupation. Whole day she "roasted" under the sun by Thomas' request, making company to him. As contrast to Thomas, Nora always became very tired from this, she could fell asleep under the sun - and this circumstance irritated Thomas.
In the same 1986, Nora and Thomas had decided to rent one more house near Berlin. It was two-storied building with picturesque view onto Lake Wanzee. Moreover, here Nora had found perfect use for her talent. It was the world of fantasy and work of skilful and rich for ideas woman, rosy-bluish paradise for two, which Nora had created. She was seeking for hundreds meters of silk by weeks and she was draping ceilings and walls with them by herself. Nora had bought furniture and a lot of others antiquarian things, plaster statues, mirrors in her sister's antique-shop. Thomas was proud of his wife! This designer's talent Nora had inherited from mother: in their flat, in Koblenz, in the living room beautiful expensive carpet had lain, which was made in Persia according to Nora's mother sketch.
In that time Nora had got the new whim - it was collection of ducks. This had to be only wild ducks, but neither Donald Ducks nor alive ducks.
Nora had agreed to stay with Thomas on the stage by wish of Thomas, friends and fans. Nora began to appear on the stage as back-vocalist with her friend Utta. But was no idea to sing with Thomas as duet and also it wasn't question of solo career of Nora. However, this didn't like to some people, especially to Thomas' partner, Dieter Bohlen. Though he spent much time in studio and he was producing many other performers.
In the beginning of 1987 vague at mini style in clothes had appeared, according to which Nora had begun to keep diet, she drank only mineral water with orange juice and tea. Moreover permanent shocks, stresses, compact diagram of performances, irregular feed (the business reached that Nora and Thomas shared a pair Chicken McNuggets with the dogs) have resulted that Nora's hair have begun to come out, Nora's nails on hands had begun to break off. Only 3,5 litres of blood were in her body, instead of fixed seven and she weighed only 50 kg. Nora's diagnosis was anemia.She was taken to private clinic for a week, where Thomas had required placing second bed for him. Soon, owing to doctors and tender nursing of her husband, Nora recovered.
In the time of tour "Thomas Anders Show" in SA (South Africa) and West Europe in 1987, Thomas with wife sang song "Tell me" on the concerts. Nora wrote the words of this song. In addition, in this tour group "MAN-X" from Koblenz was accompanied to Thomas and Nora. In fact, it was trio: Manfred Zimmermann (Manniks) - vocal and keyboars, Dieter Muller - keyboards, Hainz Oho - guitar. These guys were a good friends of Thomas and Nora, and they often were at Thomas' place.
In June 1987, term of contract of "Modern Talking" with soundrecording firm was expired, but it was decided not to renew contract and to make a pause. Meanwhile, Thomas and Nora continued to tour and in the November they flied to America to Los-Angeles for the first time. In a few weeks, Thomas had known that Dieter declared in public about disintegration of the group.
Mass media with pleasure mussed this scandal during several years. Fans also divided into two groups, one believed to Dieter, other supported Thomas and Nora. Thomas: "Actually we never had any direct conflicts. More or less it were the little hassles. Dieter is very dominant, and he ran the "business" "Modern Talking" just as he liked.

More or less I was his business partner all the same, but he never recognized the need to discuss his decisions with me - he just informing about this. And if I didn't like it - my fault again. And if they didn't know any better reason it was Nora's mistake. Surely, Nora and I made some BIG mistakes, and a lot of decisions that we made intuitively turned out to be absolutely wrong.But everyone makes mistakes - and so Dieter did. I believe, that the truth is always somewhere in the middle..."Thomas didn't upset much, because he had has plans for solo career already. And just America, warm climate, people's open-handing so deeply astonish Weidung-Balling family, that Nora had decided to live here. Staying in Germany became more problematic after scandal connected with disintegration of "Modern Talking" because many people were blaming her owing to this! She rented the house and began to make it more comfortable and only then she announced her husband about this. It was two-storied villa not far from Beverly Hills, the former flat of Clark Gable. Thomas and Nora took with themselves to America Maltese lap-dog Sherrie, which already in 1987 had began to travel with them instead of Mickey. And some time later in America they had have got one more white Persian cat Ashley. The rest animals had stayed at home, in Koblenz and housekeeper looked after them.
Two years after the disintegration of "Modern Talking" was the world tour - Thomas and his group had given near one hundred concerts in Hungary, Poland, Czech republic, Singapore, Thailand, Russia, and South America. And Nora was accompanying her husband. In this time Thomas was working at his first solo-disc, he was "tearing" between England, America and Germany.
In 1988 Thomas and Nora decided to produce group "MAN-X", which had accompanied them already in tour. Thomas and Nora produced two singles for them, which was called "I Believe" and "Waiting So Long". Nora had written the words for these songs and Manfred Zimmermann had written the music, but there wasn't big success. Then this group had begun to call "Monday" and they had written next two singles - ""Fallen Angel" and "I Wanna Hold You". Nevertheless, they had to refuse of producing these songs because of intense deficit of time.
In the same year Thomas and Nora decided to create fan-club for their fans, the office of it was in Koblenz. The members of this club got magazines, greeting cards, and once a year Thomas met with his fans at special gatherings . One of the first gatherings took place on December 2, 1989.On his first solo album among other gratitude for the help in creating disc Thomas had written "Thanks, of course, to Nora, you are my life, what more can I say".
Thomas called this album "Different", what means "Other" and Thomas really changed. His famous chain "Nora" disappeared, he made a tale from his long hair. Thomas and Nora began to prefer jeans and T-shirts to classical clothes. They didn't wear a lot of golden adornments any more besides wedding rings and golden bracelets from Cartie - "Bracelet of Love", which they bought to each other.
The first album of Thomas, in which he put in all his energy, dreams, wishes, didn't prove these great hopes. But Thomas perceived this positively, he didn't plane to repeat the success of "Modern Talking". Thomas: " My main aim is not to earn money, the most of all I would like to develop as a musician". His requirement was pop-music of high-quality level!
They had got a lot of friends in America. And Nora could be a true Nora there. Her friends loved her because she was nice, kind, and not owing to her money or her marriage with pop star.
One of Thomas and Nora's friends owned the silver mines, he wanted to exhibit the collection of adornments on market. He appreciated Nora's talent as designer and by his request, she had made more than one hundred sketches of watches, chains, bracelets and rings. Also Nora had made several draughts for the collection of jeans clothes, and she as a model took part in fashion show of designer Jefrie Bine in Los Angeles. In America Nora lived and enjoyed that living, using her artistic talents.
There Nora and Thomas had got a friend Ethel. She was 81-y. o. American woman, who was hardly ill as Nora's mother. And Nora took care of her. They even came together at one of the first fan- club parties in Koblenz. Ethel died in 1993. In that time she lay in hospital in Los Angeles. One night Thomas had called to her. She was very weak and she spoke quietly. Afterwards when Thomas hang up the phone, he realized that he will never hear and see her. That night, when Ethel died, Thomas couldn't sleep and at half past three a.m. he had sat down to the piano and had written the song for Ethel - "Dance In Heaven".

Nora and Thomas began to separate from each other more often, she spent most of time in America, and he spent his time in Germany. As contrast to the past, people found this like a sensation! The rumours about divorce began to appear in press, but actually, they were grown-up. Thomas: "We became older and inevitably became more prudent and we understood that it was silly to "hang around" each other all day and night". Such connection on distance still functioned, they called each other almost every day and they met once a month.
In 1990 Nora and Thomas had sold the flat on Zeisig Strasse, and then next flat in Berlin. It was very hard to Nora (she had grown in this flat) but it was necessary to do … because of fans, which occupied this house, and neighbors grumbled all the time. They bought half-desolate farm in the Koblenz suburb in Ochtendung and they began to restore and renew it. It became a real luxurious estate with bathrooms in Valentino style, with room for the guests and with living-room in 120 square meters with ancient fireplace. And in the yard cats, dogs, goose, rabbits and hens were placed - the most favorite childhood friends. Some time later they began to multiply by quite certain causes, and it became a real zoo.
Hearsay about divorce was persecuting them. If Thomas met with a friend, he considered being a gay, and if he went to have supper with female friend, he betrayed his wife. Therefore the press ascribed him relation with old Nora's friend Utta, who merely was married with their common friend, and of course, they were meeting often.
That time Thomas seldom was on tour, he often stayed in Germany and didn't get out of studio, his parents and close friends lived in Koblenz. Nora was bored in Germany, her friends lived in America, and there she could completely evince herself. … They even didn't notice when they began to become estranged from each other. Thomas: "Even though Nora and I were very close attached to one another, we decided to live as a couple, but on different continents. Like so many things in life there are differences between dream and the reality. Some time ago we noticed, that we still had symphathy for one another, but that wasn't enough to keep us living together…"
In 1994 they sold their farm, Thomas moved to the flat in the center of Koblenz, and Nora stayed in America. But they still maintained friendly relation, sometimes Thomas visited Nora in Los Angeles, he to her and lap-dog Puppy. Only in the end of 1995 Thomas took off his wedding ring and "Bracelet of Love" and for eternity…
Nevertheless, their marriage didn't finish as a big crash. Thomas: "Most likely it was slow fading. Of course, sometimes "scraps flied" between us, as in any normal family (here means that they quarreled also). But malicious word was never said between us, the word that could lead us to divorce. Our estrangement from each other is process of long standing. Little by little you observe, that you aren't hurt as before when other is flying in America for two months again, and you are staying in Germany. Also you notice, that you are glad for other as you wold be glad for your good friend…"
And so, after 14 years of official marriage to this fairy-tale, which had begun so beautifully the end had come. Divorce between husband and wife took place in November 1998.
PS: Where exactly Nora lives and by what she occupied herself, there is no reliable information. In "yellow" press was written that: either she came back in Germany, in Munchen or she is still living in America.

FOR MORE INFO GO TO THIS SITE: