CLAUDIA: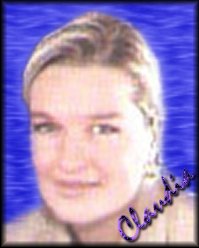 The biography of Claudia Hess
About mysterious unknown-woman, the new beloved of Thomas Anders, the world had known from the announcement of the official Thomas-Anders-fanclub from January 6, 1997. Thomas introduced his girlfriend at the Fanclub-Party, which took place on January 18 of the same year.
Claudia Hess, the native of Westerwald, little town in Koblenz's neighborhood, was born on the 29th of April, 1972. The nearest relatives of hers are mother Doris, father Hans and brother Andreas.
At the beginning of her working Claudia got the job of the director's secretary-assistant in big company of Koblenz, which occupied itself by the construction of transport roads. After that Claudia passed training in Sony/ATV Music Publishing, and now she is supervising over Thomas' musical publishing house "Thomas Anders GmbH", she had to leave her former, and, moreover, favorite work because of Thomas. Claudia: "I'm at the head of department of publishing house management, and I occupied by only "paper" businesses with other secretaries. But I don't concern the musical department and the work in studio. However I'm always well informed about all"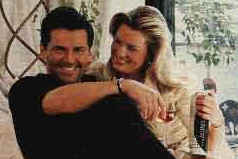 First time Thomas saw striking blonde Claudia, which looked like the woman of his dream (Nora also answered his ideal), in the spring of 1996, in Koblenz cafe-bistro "Faustus". Thomas was having his rest in his favorite cafe, and Claudia was sitting with her three friends at some distance from him. Thomas decided to get acquainted with her. He came up to her with the words: "Hello, where are you from?" Claudia treated Thomas like sympathetic and pleased young man and not like a superpopular pop-star, and she began nice conversation with him. Visiting "Faustus" become pleasant habit of the both, Claudia, dropping in cafe, each time was meeting Thomas "as if it was by chance". When they met on her birthday and Thomas was with huge bunch of red roses. Was Thomas' hint understood correctly? Today Claudia says: "Yes, I understood the hint, but, nevertheless, I was tormenting him by expectation for a couple of weeks. I wanted to be convinced in seriousness of his intentions" Later they began to call each other and could took animated talk all days long. Claudia had understood already that Thomas was just that, the only one, who came from her romantic dreams. She knew, who Thomas Anders was, some time she even was keen on "Modern Talking". Despite of the warnings of her friends and relatives, Claudia made her choice and decided to stay with Thomas. Thomas also didn't behave with Claudia with the condescension so characteristic of all stars. He was just Thomas for her and not known almost to the whole world soloist of "Modern Talking".


The decision, how to treat this beginning love affair, came to Claudia while she was staying on Ibiza – the she rested with her friend. Claudia was lying neat the swimming pool and was listening to audiocassette, enjoying the enchanting Thomas' voice, and she understood that he is a person, which she would like to see as life's companion of hers.

Of course, they met again after the vacation. Thomas invited her at his place, promising to play for her and to sing "live". She planned this visit to his penthouse for a quarter of an hour at first, but…she stayed until late at night… Thomas cooked macaroni with cheese and mushrooms by himself and entertained his guest playing the piano. And when he had played and had sung "Mandy", her heart was won finally. Claudia: "The most wonderful was experience in the day of August 6, 1996 – just then Thomas captured my heart" Few month later Claudia became the mistress of Koblenz's penthouse.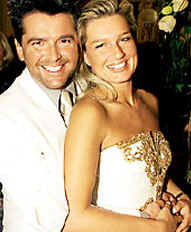 Also Thomas with incredible calmness overcame parting with Nora: "We were apart for three years, when I and Claudia flied to her in Los Angeles and I told Nora: "Let's finish everything officially. She didn't object" Today Thomas still keeps in touch with Nora, and Claudia doesn't have problems with it: "Sometimes she gets at me, if she rings, but she is always very polite"
If you beloved is pop-star, one day quiet life of enamored people in cozy nest could change harshly. And it happened so with the revival of "Modern Talking".
With the coming of second wave of success the hard burden of star lay at not only Thomas' shoulders but at Claudia's ones. Nothing disturbed the repose of lovers, and suddenly – such impetuous alteration. Claudia hadn't have possibility to be at home permanently and to cook for Thomas, now she could only hear this wizard voice, because Thomas went from one concert to another, always was on tour. Forced life apart with scarce moments of happiness – when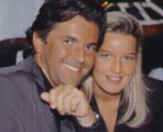 Thomas comes back from tour – hardly exhausted. So Claudia decided to leave her work and travel with Thomas. But it was moral support and quivering care of loving girl than desire to appear with "Modern Talking". Thomas, in his turn, tried and is trying to keep away so dear to his heart, charming fair-haired German-girl from importunate journalists, and, according to his words, he categorically minds if his girlfriend make the career in "Playboy", " peep! " and with a naked breast. Thomas: "If Claudia will tell, that she wants to become a TV-star, I would have problems with it. Moreover, this is not because, that I do not wish her this. Owing to this will be complicities in our relations. Our time-spending will be under a shock. If for me will be necessary to go on representation, for example, to Paris, she can't go with me, because she needs to fly to Berlin to the TV-shooting. I have a definite conception about the life. I'd wish, that for my partner was enough time for me, that we enjoyed it all together. But it does not mean, that to me is necessary only housewife near the stove. Absolutely not. If for Claudia there were dreams to work on TV, I would support her in this case. But she doesn't have such dreams. She doesn't need to make her career, only because she together with me"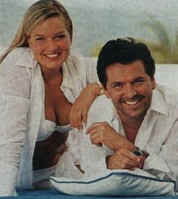 At last in summer 1999 it was possible to find some weeks out from compact tour's graph – "Modern Talking" singer Thomas Anders and his life's companion Claudia Hess had spent 4,5 week's rest. At first they rested on resort on Mosel, then at their friends' place at yacht in St. Tropez (on the coast of South France). Ultimately they were enjoying by days out of concert fuss and by the romantic side of island on fantastic villa on Ibiza. The villa is in little town St. Antoni on the precipice of a mountain with wonderful view at blue gulf. It was the last station of the first great love vacation for Thomas and Claudia.
And who is Claudia by herself? The most unpleasant conception for her is "war". Claudia couldn't accept envy from the all human qualities. Also this believe in herself whatever will happen, one of her mottos is: "Always look to the front, never look back". Claudia is rather sporting girl: from all the sport games she prefers tennis and, as Thomas, golf. Probably, they play golf together. Tastes and standpoints of Thomas and Claudia coincide not only for sport, but for the life in whole. Even after that, when they spent all day together, they could talk for hours, especially they like to laugh at some merry stories and jokes. So far as Thomas is very companionable person, he with Claudia have a lot of friends, and they perfectly spent their time together. Thomas cooks for them, and most often it is pizza. "To live with him is very comfortably" –Claudia says. "He have a good sense of humor and incredibly plenty of energy. Every joint action, right up to going shopping, is real adventure".
This harmonic couple for a long time dreamed about the creation of their family hearth, but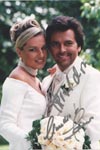 Thomas had to wait 1,5 year after his divorce, which took place in February 1999. And, at last the wedding was appointed on the 15th of July, 2000! The wedding was taking place in the Stromburg castle in little town Stromberg, near town Bingen at 5 p.m. according to the German time. Just then Claudia became legitimate wife of Thomas.
Thomas and Claudia want to have children. " I am anxious to have two ones" –Thomas says. Let's wish to them happiness, many years of joint life and a lot of little "Thomas Anders'"!!!